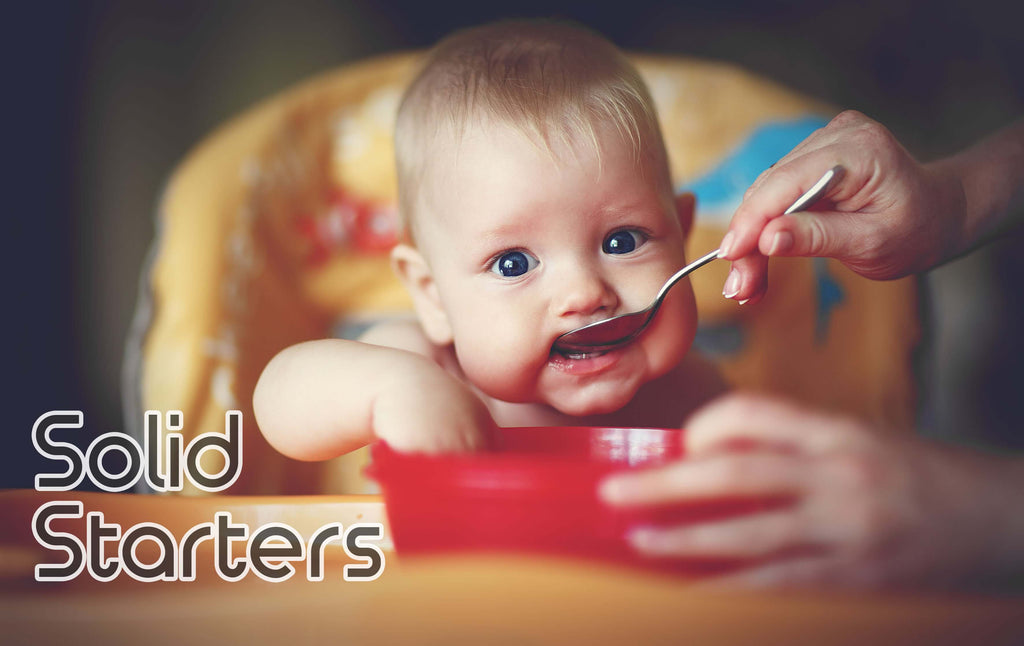 It's that time again for us - starting solids.  Whether you're doing purees or baby led weaning or a mix of both, here are our favourite products.
Ikea Antilop High Chair with Insert
#Winning.  A simple, inexpensive and easy to assemble high chair with few crevices and moveable parts (

less

 places for food to hide).  If dinner time gets messy you can even hose it.  It now comes with an insert (helpful inflatable plastic thingy with a machine washable cover). 
Nuby Nibbler Mesh Feeder
Let baby sample first foods without the risk of choking.  Pop fresh fruit and steam 

vege

 in the mesh.  Comes with a lid for travel.  We took ours to Hawaii so bub could sample the local fruit.  The mesh can be a little tricky to clean (ie. Banana), but you can buy replacements if needed.  Too easy. 
Kmart Silicone Placemat
| | |
| --- | --- |
| | Kmart lovers rejoice. Simple and inexpensive. Sticks well to the Ikea Antilop High Chair. |
Munchkin Silicone Feeder
| | |
| --- | --- |
| | Similar to the mesh feeder, but the difference is you can freeze purees, milk and fruit in it.  Great for snacks and teething! The feeder also comes with a cover for when you're out and about.  Easy to clean. |
Heinz Freezer Pots 
| | |
| --- | --- |
| | These pots come in a variety of sizes and are great for purees and snacks on the go.  The pots feature a "pop up" base making removal of frozen purees a breeze. |
Breville Baby Banquet
| | |
| --- | --- |
| | A cheaper alternative to the Thermomix with 3 functions - food/bottle warmer, steamer and blender – though the steamer/blender get the most workout.  Complete with utensils, this clever contraption should last well beyond your baby days. |
Boon Benders cutlery 
| | |
| --- | --- |
| | Ergonomic with a small head that allows little hands to grasp and eat with this fork and spoon. |
Boon Squirt Spoon
| | |
| --- | --- |
| | Perfect for feeding purees on the go, this spoon has a refillable silicone handle. |
BBox Travel Bib
| | |
| --- | --- |
| | A nifty little bib which is easy to clean and folds up nicely for feeding out and about.  I machine wash mine in a wash bag. |
BBox Sippy Cup 
| | |
| --- | --- |
| | Cleverly designed with a weighted straw, easy to grip handles and a flip-top cover, this water bottle is very easy for little people to use.  Make sure it is clearly labelled at daycare, most kids have one of these. |
Silly Billyz Fleece bib
| | |
| --- | --- |
| | If your baby is like mine, he needs a raincoat when he eats.  Well, this is the next best thing.  Fully machine washable with a fleecey front which always cleans beautifully, no matter what gets stuck to it.  |
Bamboo Basix Washcloths
| | |
| --- | --- |
| | Ultra soft and absorbent, our washcloths are perfect for wiping messy faces and hands.  They are fully machine washable and available in a convenient pack of 6. |