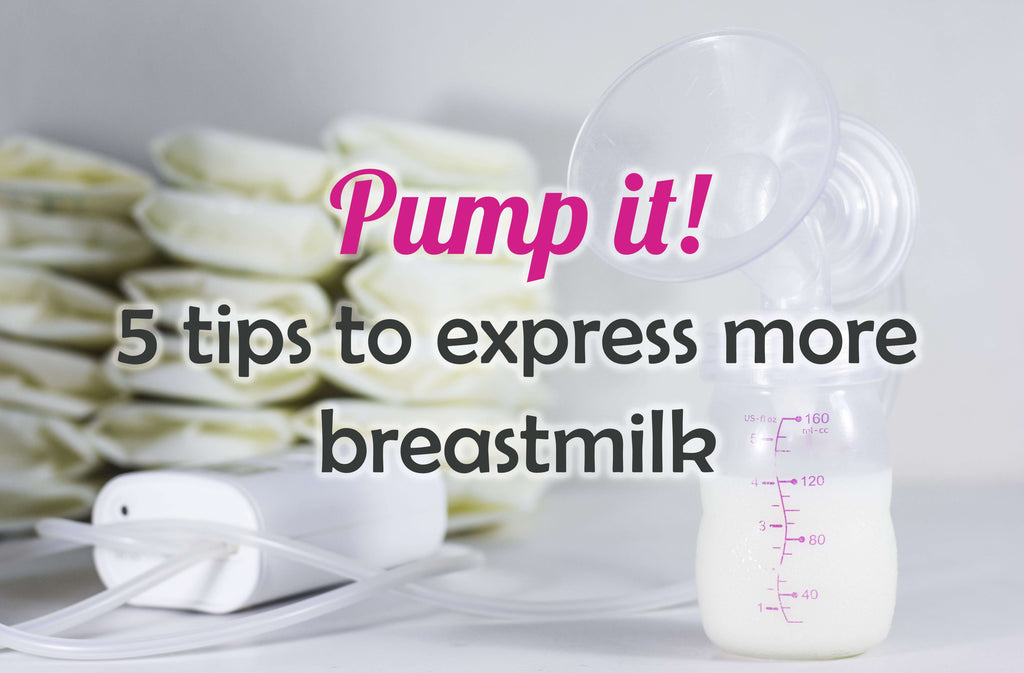 If bub is unable to latch properly, you're returning to work soon, want to maintain your milk supply, relieve engorgement or simply want to let your baby practise bottle feeding, you might like to consider expressing some breastmilk.  The easiest way to do this is with a manual or electric breast pump (as opposed to hand expressing –  ain't nobody got time for that!).  However, like many things in this motherhood gig, pumping is a skill.  Here are 5 tips to get you started:
Buying a pump
A good quality pump is worth its weight in liquid gold. There are so many things to consider here (might become a separate blog topic), but here are some factors to consider:
Manual or electric
Budget $$$ – pumps range from $20 to $400
Use – occasional or full time
Mains power or rechargeable
Size (for portability)
Features (eg. Variable suction, timers, massage function)
Warranty/after sales service
Accessories (eg. Bottles, different sized flanges etc)
Talk to other mums, post on online forums (eg. Facebook groups) and talk to vendors to find what is suitable for you.  You can even hire a breast pump through the Australian Breastfeeding Association (awesome resource) and some pharmacies to try before you buy.  I personally have a Spectra S1 which I love, particularly the inbuilt rechargeable battery which means I don't need to be close to mains power for it to work its magic.  Spectra's after sales service is great too.
Have a routine
This helps your body know what to expect and "get in the zone." Aim to pump at the same time of day, in the same environment.   This is particularly important for those who exclusively pump.
Breasts are fuller in the morning, hence pumping in the morning usually yields more milk.
Some ladies "double pump" ie. Pump both breasts at the same time.  Others pump the other side while baby nurses.
You may have heard of "power pumping." It is not a gym class.  It is a pumping regime aimed to increase milk supply by mimicking the frequent nursing sessions of a baby experiencing a growth spurt.  Typically it involves:
Pump for 20 minutes; rest 10 minutes
Pump another 10 minutes; rest for 10 minutes
Pump again for 10 minutes; finish
Check your equipment
Make sure your gear is clean, in good working order and is assembled correctly.  Incorrectly fitted valves can cause loss of suction which can affect how much milk you collect.  Likewise, incorrect flange size (the "tunnel" part of the breast shield where the nipple enters) can cause pain and damage to the nipple.  Over time, nipple size and corresponding flange size may also change, so it's important to check this regularly.  Correct flanges can make a big difference to the overall amount of milk collected.
Get to know your pump and its features.  Ensure you set it correctly for optimal use.
Prime yourself and let it flow! 
Condition your body and the milk ejection reflex (letdown) for a pumping session by:
Dressing for the occasion – loose fitting clothing with easy access for your pump. If you want to go "hands free" (yep, this is a thing), you can buy a specific bra for this eg. Medela Easy Expression Bustier.  Keep Bamboo Basix breast pads on hand to help with any leakage.
Drink a glass or two of water before.
Have something to eat.
Practise visualisation – some mums use pictures of their baby, the smell of their baby's clothing, music (Black Eyed Peas or the theme from Frozen immediately comes to mind) or imagery of rivers flowing to the ocean (seriously!).
Use massage (downward strokes toward the nipple) or a warm compress.
Storing breastmilk
Once you have collected your liquid gold, it must be stored correctly.  The easiest way to store breastmilk is in purpose made bags which can be sealed (eg. Medela Pump and Save Bags). Generally, freshly expressed breastmilk can be stored for:
6-8 hours at room temperature (26 degrees or below).
Up to 72 hours in the coldest part of the fridge.
3 months in the freezer (separate to the fridge).
6-12 months in a deep freeze.
Remember, pumping is a skill that requires hard work and dedication.  It is also important to know that no pump can truly replicate a feeding baby.  Therefore, how much you can express is not necessarily indicative of how much your baby feeds at any given time.  Go on, pump it!
Now it's your turn.  Share your tips or tricks to pump more breastmilk with us and other new parents in the comments section below, or over on our Facebook page.